Santander Partnership

Santander Partnership
One of the University's key aims is to develop strategic relationships with civic and commercial partners that enable each party to achieve mutually agreed goals. We intend to nurture these partnerships in order to realise shared initiatives, which reflect the priorities of the University.
NTU is proud to be part of the International Santander Universities Network. We are working together to support higher education by providing funding for scholarships, grants and internships. Our work with this network is one of the many ways in which we are realising our strategic aims to create opportunities, value ideas and enrich society.
This page details our work with Santander. Please do not hesitate to contact us if you have any questions.
Santander Universities has been working in the education sector for over 20 years and has developed a network of over 1,100 universities worldwide.
Nottingham Trent University signed its agreement with Santander Universities UK in 2012. Since then Santander has funded:
undergraduate scholarships and awards
postgraduate scholarships and awards
internships
academic changes
research projects
entrepreneurial projects.
These activities have befitted our students, staff and local businesses. They have allowed us to share knowledge and strengthen our international relationships.
About
Santander Universities Global Division was established in 1997, with the first UK partner joining in 2007. Santander Universities' aim is to support higher education as a means to contribute to the development and prosperity of society. Since 1997, Santander has donated over £500 million in the shape of scholarships, travel grants, support to special projects, academic and non-academic awards. 
It is a global network, which exists to help provide students with the support they need to become tomorrow's leaders. In addition to the UK, Santander Universities has more than 1,100 cooperation agreements with universities across the globe. See the full list of partner institutions. Also see Nottingham Trent University's partnerships with institutions globally.
Subsidised Graduate Internships available
The programme enables participating UK-based businesses, social enterprises and charities that meet the small and medium enterprise (SME) criteria to employ final year students and recent graduates. The internship will last for three months and the graduate will receive £1,000 per month which is part claimed back by the employer from the programme. See our subsidised graduate internships page for more information.
Formula Santander Scholarship
A Formula Santander Scholarship was awarded to one of NTU's Business School undergraduates studying International Business and Economics. Our student travelled to Sao Paulo University, Brazil and conducted an intensive three-week program composed of lectures and company visits focusing on emerging countries and how they can succeed in the global marketplace.
For more information visit the Santander website.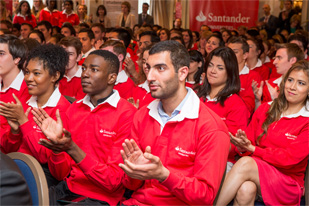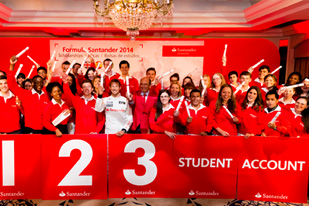 Funded work placements
We are also awarding a number of funded work placements. These will be delivered through our strategic partners and promoted to students. Please check FutureHub for these opportunities.
Santander Enterprise Sponsorship
Santander's Enterprise Sponsorship is funding given to individual universities. Our sponsorship money from Santander has helped to refit and support the initial subsidy of a three storey shop unit at The Hive@Cobden Chambers. This impressive business unit resides in the centre of Nottingham's shopping area. Hive-based Start-up businesses will be situated there initially. Art and Design students will also have the opportunity to exhibit their work.
Santander Entrepreneurship Awards
Santander is committed to encouraging and promoting enterprise at all stages of the business cycle. One area that needs more support is marketing brilliant ideas, which in many cases are born in the classrooms of UK campuses.
Enterprising undergraduates and graduates in the UK are invited to enter the Santander Universities Entrepreneurship Awards. These awards offer the top prize to the best business idea and evidence of its successful implementation offered to a panel of expert judges. Eligible applicants will need to own the business in question and alumni need to have graduated within the last two years.
Visit the University branch 

Santander
Newton building
Nottingham Trent University
City Campus
Goldsmith Street
Nottingham
NG1 4BU
Telephone: 055 11 485 760
The branch is open Monday and Tuesdays 10 am – 6 pm and Thursdays and Fridays at the same time. It is open from 10 am until 5 pm on Wednesdays.