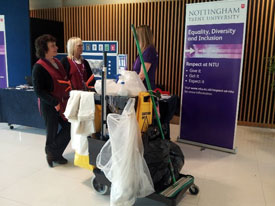 This section of the website is a resource for those wishing to develop their competencies in equality, diversity and inclusion (EDI).
Members of staff often ask how they can develop their EDI considerations in their day-to-day role and activities. The links and resources on the Resources for staff members page are a good starting point for anyone wishing to further embed EDI in their work.
Students wishing to champion equality, diversity and inclusion will find the Students' Union a fantastic source of opportunities and activity. There you will find:
part-time Student Officers who represent a number of equality groups.
A wide range of societies to get involved with, many of which exist to promote issues relating to diversity.
volunteering opportunities in the local community with one of the many local organisations and schemes dedicated to equality, diversity and inclusion. Roles and commitment are varied, from ongoing opportunities to one-off events.
For people who may be interested to find out more about a particular issue, the Useful links page will be updated and added to regularly. It includes links to publications, reports, news items, video clips and other resources. Please email us if there is anything you would like to be added here – whether it's something you've stumbled across which is worth sharing or whether there is a gap which you think ought to be filled.
This is a helpful tool for enabling staff to consider religious observance requirements when planning events such as field trips, interviews or away days. It is also useful for curriculum enrichment, highlighting notable dates throughout the year such as Black History Month and LGBT History Month.