Equality, Diversity and Inclusion

Member profiles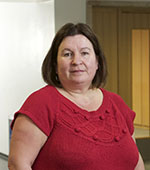 Name:
Jane Dudley (Co Chair of the DEN)
Work area:
Student Support Services
Description:
Hi, my name is Jane. I work in Student Support Services and I've worked here for 17 years. My disability developed about 11 years ago and it had quite a dramatic effect on my health for a couple of years. The university supported me for the first year while I adjusted to the effects of the condition. I hoped the medication would 'normalise' my life again. It has to some degree, although I continually struggle to manage all the symptoms which can be tiring. Following a virus (so the audiologist says) three years ago, I now have a significant hearing loss in my right ear. I feel that I am supported in my work and the DEN gives me the opportunity to share ideas and contribute to the University as a disabled person.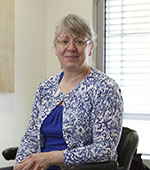 Name:
Fay Harrison
Work area:
Libraries and Learning Resources
Description:
Hello, my name is Fay. I work in the Library and I've been at NTU for 33 years. I have a lifelong disability which has had an impact on my life choices and meant I could never be a detective in the police force! However, I decided that a career as a librarian would be a good alternative, as at least I got to read crime fiction. When I started out, I found it very difficult to find a job, but when I applied to Trent Polytechnic all those years ago I found them to be very positive and supportive – something which has only got better with time.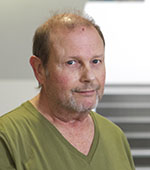 Name:
Fred Postles
Work area:
Student Support Services
Description:
Hello, my name is Fred. I am a Disability Officer in Student Support Services and have been for 10 years. Previously I worked as a community worker for a user-led disability organisation, and have worked as a crime prevention officer for Notts Police, an intelligence officer for the same service, a part-time tutor with the Open University, and in retail management for 17 years. I acquired my impairment aged 28, and whilst life-changing, I have discovered having an impairment is not a barrier to participation if the right adjustments can be made.
Name: Chris Keast (Co Chair of the DEN)
Work area: Property Management and Development
Description: Hello, my name is Chris. I've been a lecturer for 15 years having previously spent nearly 20 years in industry. Whilst in industry, one of my specialist areas was working with disabled people to enable them to remain in their own homes. Although having a lifelong disability, this was compounded by a serious accident 10 years ago, which left me mobility impaired. This experience has enabled me to bring a new perspective to my teaching and as a surveyor, really understanding the challenges disabled people face in accessing the built environment.