Current students

Your future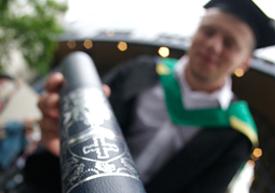 Your future is important to us and it's worth planning what you intend to do after you graduate early.
In this section you can find important information about your graduation ceremony, options for further study after you finish your degree, where you can get careers advice and the Alumni Association.
Here to help you make the right choices about your future. Specialist careers advisers can give you valuable insights into possible career directions and how to get there.
Build up a greater knowledge of your subject, gain valuable transferable skills and improve your career prospects.
As long as you remain in contact with us, we will continue to keep you in touch with a worldwide community of 90,000 alumni who have shared the NTU experience over the years.
Find all the information you need on graduating from NTU.
Doing a placement gives you the opportunity to gain work experience in a professional environment and put knowledge gained during your studies into practice. We offer as many students as possible the opportunity to do placements as part of their course.