Current students

Binding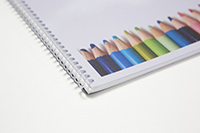 Clear coil binding
Create an impressive presentation with these clear binding spines. It adds energy to your presentations while maintaining a clean, professional look. Spines keep their shape, allow pages to lie flat, and permanently bind to secure your documents.
A5 portrait / landscape
A4 portrait / landscape
A3 landscape
5-110 sheets based on 80gsm paper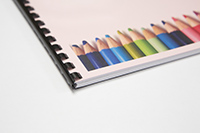 Comb binding
21-hole plastic spines produce neatly bound documents and presentations. These durable spines allow pages to lay flat and won't scratch, chip, peel or discolour. We can also unbind this to add more pages.
A4 portrait/landscape
A3 landscape
5-440 sheets based on 80gsm paper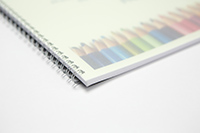 Wire binding
Permanently bind documents using the sleek WireBind spine. Your presentations always look great and stay secure. Pages also lie flat with 360 degree rotation, making note taking and photocopying hassle-free. Available in black and silver.
A5 portrait/landscape
A4 portrait/landscape
A3 landscape
5- 200 sheets based on 80gsm paper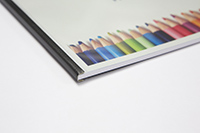 Unibind (Heat Binding)
An A4 steel glue bound black spine with leather look, and clear plastic /acetate front and back covers with score to enable flat opening. A unique patented polymer within the u-shaped channel of the spine guarantees a secure and long-lasting bind.
5-340 sheets based on 80gsm
A4 portrait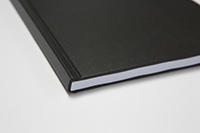 Hard back window binding
Similar to unibinding but with a black leather effect, hard front and back. The front cover has a window cut into it which looks through to your first page. We can create a new cover with your details to fit into this when you arrive. A cheap and good looking way to enhance your essays.
5-340 sheets based on 80gsm
A4 portrait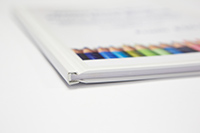 Hard back pouch cover binding
A white hard back binding with a laminate pouch attached which you can insert your own design into to personalise your front/back cover, adding a professional and artistic finish to your work.
A4 portrait / landscape
15-300 sheets based on 80gsm paper
New Buckram style hardback binding
A black Buckram style hardback binding with gold or silver digital foil lettering produced to University standard guidelines. Perfect for BA's to PHD's or to just add a little extra to your essays.
We have a sliding scale with price (see below form) dependant on how fast you need to receive your binding.
Your work needs to be submitted with a hard back binding request form
.
A4 Portrait
10-300 sheets based on 80gsm paper
New Creative binding service
Perfect binding with full-colour wraparound (hard or soft covers) from £20.00
Sizes Available:
A4 Portrait (297-210mm)
A4 Square (210-210mm)
Inside paper: printed on 120gsm/160gsm Matt
Minimum number of pages not including the cover – 20 pages/40 sides of printing
Cover is laminated on front only, matt/gloss or soft touch (prices vary)
Choice of white or black end papers (backing of cover)
Personalised full-colour hardcover wire binding from £25.00
Size Available