Student Services

International students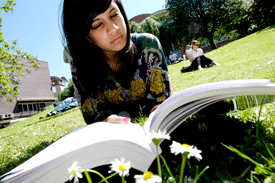 International students
In this section you will find information about:
You will also find out about the advice and help available to you from the International Student Support Service based in the Newton building on the City Campus.
You can access a number of resources to help you in the International Student Support module.
Studying overseas isn't only about getting a good education - find out how you can get involved, develop new skills, make friends and get active.
Staying in the UK during the Christmas holiday?
Take a look at the Global Lounge's Christmas guide
to find out about events taking place at NTU, as well as ideas for things to do during the Christmas period!
Telephone frauds and scams
Universities have been made aware that there is a telephone scam in operation which is targeting international students.
If you receive a telephone call from someone who claims they work for the Home Office, it could be a scam. Scammers target international students by pretending to be from the Home Office and demanding money or payment for a fine related to an immigration problem. Get information and advice on how to deal with this.
Contact us
Visit us in the Newton building on the City site, telephone +44 (0)115 848 2631 or
email us
.